Glaucoma is a group of eye diseases that can damage the optic nerve and lead to vision loss. Due to its complex nature and the numerous unanswered questions surrounding it, researchers and eye care professionals have been delving deeper into the topic of glaucoma.
One particular question that has sparked significant interest is whether glaucoma can be passed down. Based on what we know, glaucoma does have a hereditary component. So, if someone in your family has glaucoma, you have a higher chance of getting it, too.
Understanding the genetic implications of this eye disorder is important as it can mean earlier detection, more effective treatment, and possibly even prevention of this potentially debilitating condition. By understanding the link between genetics and glaucoma, scientists and medical professionals hope to make progress in diagnosis and management, ultimately improving the quality of life for those at risk of this sight-threatening disease.
What Is Glaucoma?
Glaucoma is often associated with abnormally high pressure in the eye, known as intraocular pressure (IOP). While high IOP can be a warning sign, it doesn't always directly contribute to ocular nerve damage and the development of glaucoma. The relationship between IOP and glaucoma is complex and not fully understood. It's important to note that some individuals with high IOP may never develop glaucoma, while others with normal IOP may.
There are many types of glaucoma; however, there are 2 primary forms: Open-angle glaucoma and angle-closure glaucoma.
Open-angle glaucoma is most common and occurs when the eye's drainage canals become blocked, causing IOP to rise as the fluid can't drain out of the eye. Over time, the increased pressure can erode your optic nerve tissue, which may lead to vision loss or blindness.
Angle-closure glaucoma, although less common, is a medical emergency. It occurs when the drainage canals are suddenly blocked or covered over, like a sink with something covering the drain. With the fluid unable to circulate freely, IOP increases quickly. This condition requires immediate medical attention to prevent vision loss.
Glaucoma often begins slowly and with minor symptoms. It can take years before noticeable vision loss occurs, which earned its nickname: the "sneak thief of sight." Regular eye exams are critical to detecting and halting the progression of glaucoma.
Who Is at Risk?
Genetics play a significant role in the development of glaucoma, with research indicating a strong hereditary link:
Remember, while these factors can increase your risk, they do not guarantee that you'll develop glaucoma. Regular eye examinations remain crucial for early detection and treatment.
Genetic Factors in Glaucoma
Several specific genes have been linked to glaucoma, including MYOC, OPTN, and WDR36. The MYOC gene, for instance, has been associated with primary open-angle glaucoma. Mutations in this gene can cause a protein buildup, increasing IOP and potentially leading to glaucoma.
The development of glaucoma, however, is not solely dictated by genetics but is a complex interplay between genetic predisposition and environmental factors. For example, elevated IOP can exacerbate the effects of harmful genetic mutations. Additionally, lifestyle factors like diet, exercise, and smoking can impact IOP levels, further influencing the onset and progression of glaucoma.
Recognizing the significant role of genetics in glaucoma development, genetic testing, and counselling can benefit individuals at risk of glaucoma, especially those with a family history of the disease. Genetic testing can identify potential harmful mutations, allowing for proactive measures to be taken. Genetic counselling can provide individuals and families with information regarding their risk, the nature of glaucoma, and potential preventive steps. However, while genetic testing can provide valuable insights, it does not replace regular eye exams and glaucoma screenings.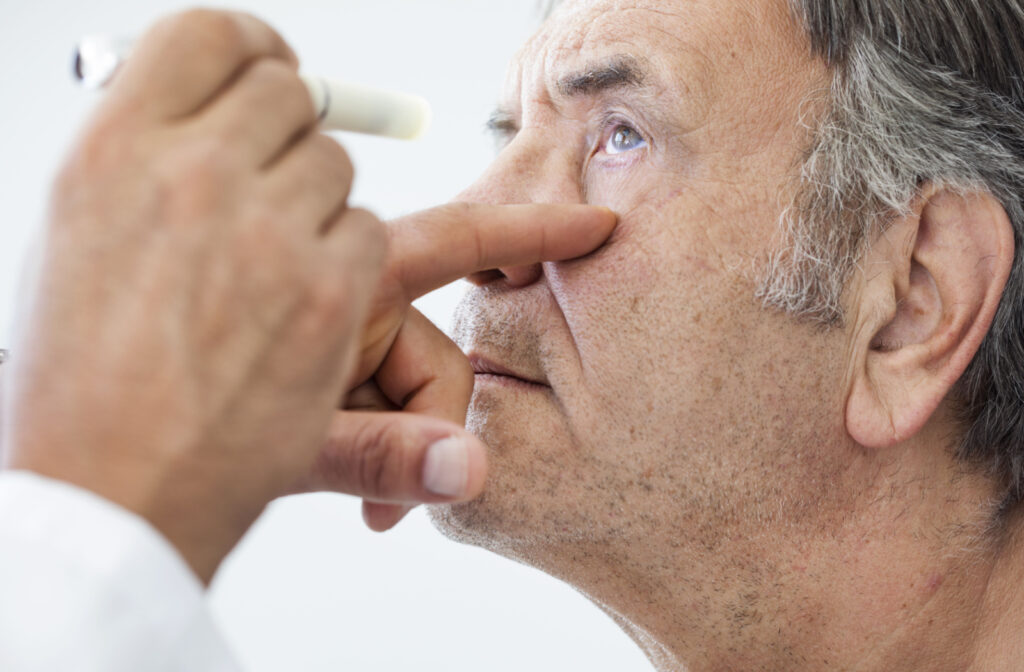 The Importance of Regular Eye Exams
Early detection is vital to slowing glaucoma progression, minimizing vision loss, and preserving sight. During comprehensive eye health exams, your optometrist will screen for signs of glaucoma and other potential risk factors.
Taking proactive steps to protect your vision is the best way to ensure you maintain healthy eyesight for years to come.
How Alcona Eye Care Can Help
At Alcona Eye Care, we are dedicated to preserving your vision. With the combination of advanced technology and personalized care, we are fully equipped to detect the earliest signs of glaucoma and provide effective management strategies tailored to your individual needs. Scheduling regular eye exams at Alcona Eye Care is not just an appointment; it is a proactive step toward safeguarding your vision. Trust us with your eye care—because you deserve to see all the beauty the world has to offer today, tomorrow, and forever.